The following is another heartwarming true story that will make you believe in the magic of the season.
"Last Friday, October 22, when a friend called to say she had found a kitten, I would never have believed what was about to unfold. She and a friend were walking in the local park and found a stray kitten that needed help. She brought the kitten to our farm and I said I would take care of it. I settled the cat into a kitty condo away from the resident cats. I told my friend I thought she might be older, but just not in the best of health. I called Susie from Berks Cat Search and asked if she could scan the cat for a microchip.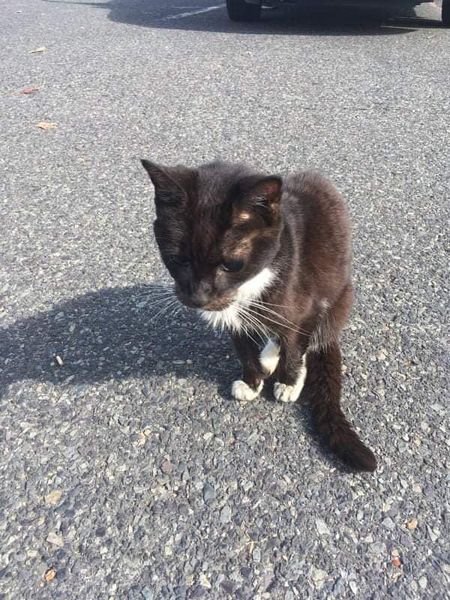 The little black cat with white feet was chipped and registered with a pet watch service. We called the company, and they verified the cat was registered, but had beenmarked as deceased. We assured them it was alive but not in good health. She told us the cat's name was Tia and she was registered as belonging to a woman named Sherry. I was shocked! I knew Sherry and she is not the kind of woman who abandons an animal. I sent Sherry Tia's picture and she called back right away. She said it was her cat, but she had not seen her in about 7 years. Due to a serious, family medical issue she had rehomed little Tia with a gentleman who promised to care for her and notify Sherry if anything ever happened to her. Sherry was sad and devastated at Tia's situation and we made plans for her to come out to the farm.
She and her two daughters came out that Tuesday and immediately held and hugged Tia. They no longer had the adopter's contact information and so had no way of knowing what had happened to this sweet little girl. We talked for a while about what a funny and loving kitten she was and about how she would never leave them again. They bundled her up and started home to the forever home Tia deserved. I was sorry to see her go. I had fallen in love with the little 5-pound orphan, but she was going home with people who she knew and who loved her. After they left, I thought about how strange this all came to be.
If my friend Doreen had not been walking at that precise time, in that precise place, she may not have found Tia. If Susie hadn't found the microchip, we might never have found Sherry's name. If Doreen hadn't brought the cat to me, I wouldn't have reunited with friends from 20 years ago. And, best of all, Tia wouldn't have found her way home all these years later!"
Tia's story is shared by Jann O'Leary Costa. She and her husband, John, along with about 20 horses, 8 dogs and a dozen cats or so live at JC Cutting Horses in Boyertown PA. Jann, along with managing the barn, is an accomplished equine and pet therapist. You can contact her at jccutters2@aol.com