Believe it or not, we have gotten through an entire summer with this Covid! Time to prepare to go back to school, in some form or another, prepare the garden for fall, if you have one, and thought it would be useful to talk about preparing, in case you, or your pet's care giver, must self-isolate for the 14 days or perhaps even longer.
Preparing for the best care of your pets in case of a Covid episode, is like preparing for any pandemic, natural disaster, or unexpected situation in which your day to day reality is changed.
The CDC says "When possible have another member of your household care for your animals while you are sick. If you must care for your pet or be around animals while you are sick, wash your hands before and after you interact with pets and wear a face mask."
So, first find a member of the household or family who can step right in and be responsible for your pets if you are ill or hospitalized for any length of time. If this is simply not an option, research the pet boarding and home care services and facilities in your area, visit them and discuss how they could handle a situation in which you would need their services with no or very little notice and not knowing how long your pets would need to be cared for.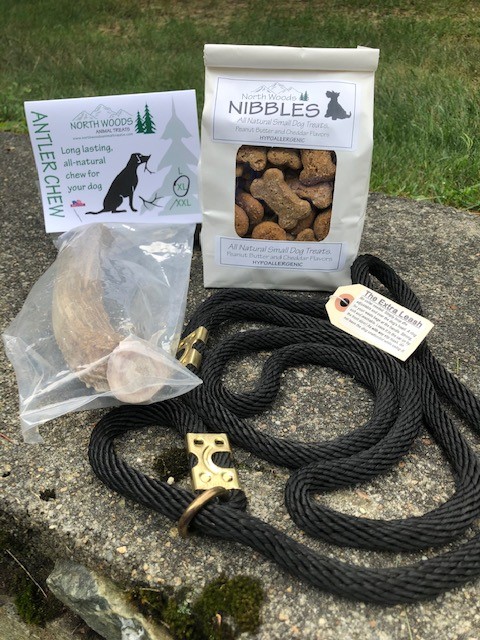 Make a supply kit for each animal. It should include at least one rotation of all the food they eat. Of course, they will need treats. Have full, extra medications, so the new caregiver won't have to worry about filling prescriptions, chew toys for stress, (we like antlers), and instructions for all, so the pet's routine changes as little as possible. Have an extra set of a leash, collar, or harness. This is a perfect example of how people use our Extra Leash. Leave it in your preparedness kit. It goes on an off the pet easily and quickly. Have the crate, extra bed and something that smells like you ready to go. (If your animal can lay on something that smells like you, their stress level will be lower). We have put together a preparedness kit with what we can help with, including treats, an antler and our leash. You can check some kit items off your list! View Our Covid Pet Preparedness Special.
Have a complete contact list of services your pet uses, the vet, the ER vet, the groomer, the pet sitter, the walker, and anyone else who is involved with your pet's routine.
Of course, make sure your pet is up to date on all vacations including the specific ones a boarding facility requires. Don't forget your vet is essential and so keeping your pet up to date is easy. Make sure the pets have their license and ID tags on their collars, and the collar is on the animal. Get your pet micro chipped if they aren't already. In case they somehow become separated from whoever is taking care of them, it is a good way to help make sure you get reunited with them.
Hopefully, no one will need to use the above preparations, but this is a case of better prepared than sorry. It won't take long to get this plan together and your stress level will be so much lower when you know you have done the best you can to take care of your pets while you are ill. Then you can concentrate on getting better and back to them!